May 15, 2003
TAMA not TINA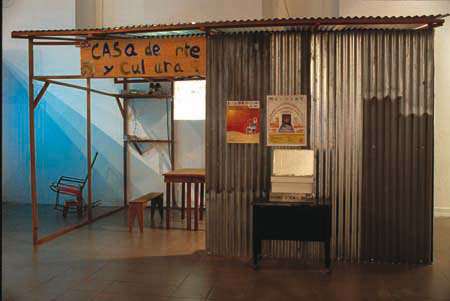 we have choosen an open un unfinished form for this exhibition instead of a fixed art-composition in a fixed artform. we think the time now is for rethinking art and its contexts and putting up questions. Generally we think that art-making and -thinking through the 20.century has been too narrow, that it is necessary to understand art, to perform art and to communicate art in a much broader sense and that it´s necessary for artists to get in contacts with and communicate with other communities and spheres of the society and to include and exchange experiences and ideas done by other groups in the society. With this exhibition we want to get in dialogs with already existing groups in Cental America and in Costa Rica.
We will chose a location for a fixtive bureau somwhere in a local area and reinclude it as an inspiration in the museum.
show different project which has been collected in copenagen and during a 3 weeks perode stay in San jose we will bring together books informations beginning to map alternatives from costa rica an chose a fixtive bureau somwhere in a local area as an idea .