June 25, 2005
ARTFREIGHT & PARKFESTIVAL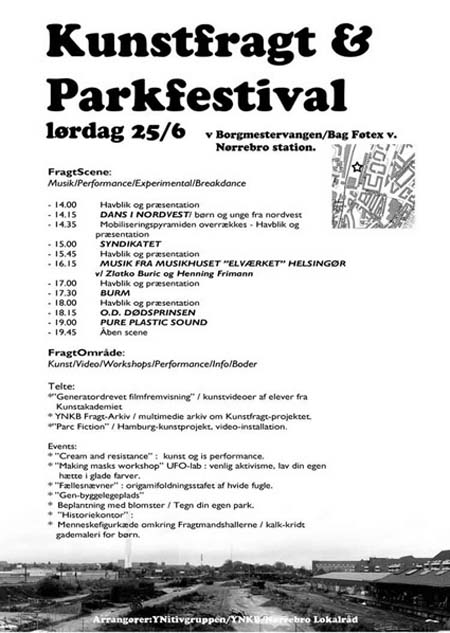 ARTFREIGHT & PARKFESTIVAL '' Artists supporting "Artfreight in the Freighthalls " at OUTER Nørrebro with a Free Concert. Saturday 25 of june 2005
Artfreight and Parkfestival on the railroad grounds (DSB arealerne) behind Føtex at Nørrebro Station last saturday, started in pourring rain, so bad that we had to cancel "Dance in North West" our first event of the day. The platform of the old freighthalls functioned as a perfect stage, "The Freight Stage" and after this the events went on the rest of the day following the program, yet retarded with bands and Music/Performances: "Syndikatet", "Musik fra musikhuset Elværket", v/ Zlatko Buric og Henning Frimann , "BURM". "O.D. Dødsprinsen", "Pure Plastic Sound".
"Mobiliseringspyramiden" was given to, Jesper Bladt Jørgensen,"Kvarterløftsekretariatet"(city council staff, who enthusiasticly is supporting the project. On "the railroad grounds" different events were taking place with art/Film/Performance and Workshops for children and an Info-tent with information about the project "Artfreight", with the debate which has been covered by the press during spring 2005, about perserving the old historical freight buildings. "Artfreight" is anproposal of how to use the Freighthall for an International Artcenter, a researchcentre at International level for new social – and ecological art. This could make Outer Nørrebro to a culturalcenter for the whole city of Copenhagen and open up the area outwards as well as inwards. Art Freight is a vision for a new contextual cultural light house for outer Nørrebro.
On the railroad grounds you could expierence different activities , as the artgroup, UFO-lab: "Making masks workshop" where you could make your own elephanthood in happy colors as friendly activism,and "History writing" at the "History office" collecting personel stories from the area. There were different creative activities for the many kids as "build your own house/construction of re-used wood" and pavementdrawing with chalk: "Draw a chain of Human figures around the freighthalls ".
In the tents on the railroad grounds one could enjoy "Generatordriven filmprojection", with artvideos made by students from the Art Academy and YNKB showed in one of the tents a monitor, where people could follow the three first chapters of "Processen", a video project which has been broadcasted in a local artistrunned TV-station in Copenhagen, discussing the perspectives and ideas behind "Art Freight" with politicians, cultural people and the local inhabitants.
The initiative of the Artfreight and Parkfestival was the YNitivgruppen, YNKB (Outer Nørrebro Culture Bureau) og Nørrebro Local Counsil.
Sewing a banner in front of YNKB office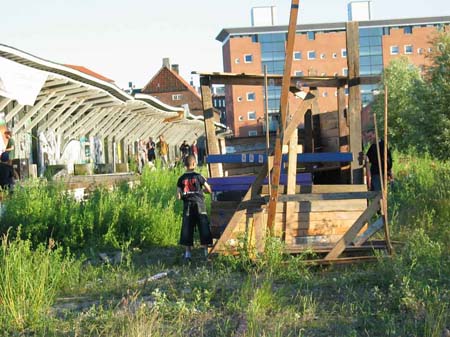 Adventure playground of reused materials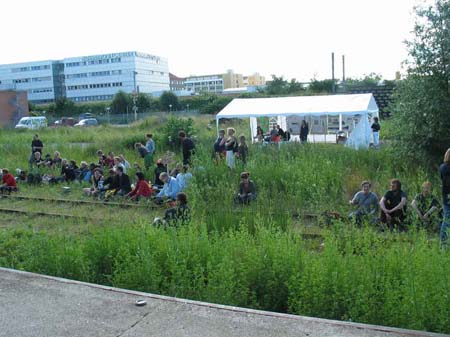 "Generatordriven videotent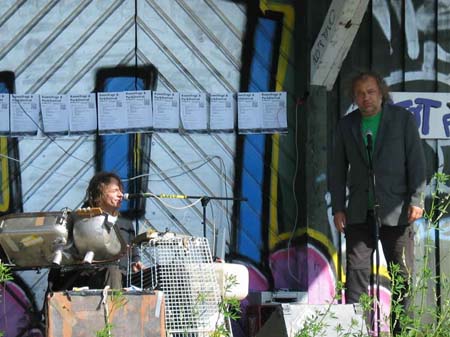 Music and performance from "Musichouse Elværket", by Zlatko Buric and Henning Frimann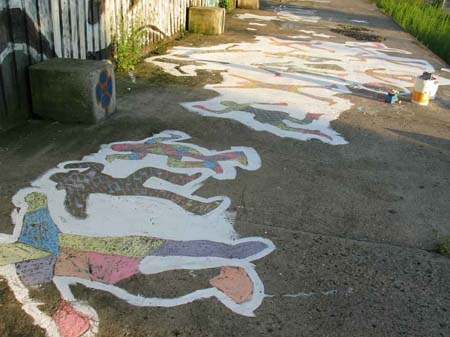 Painting by chalk around the Freifgthall. "The Human chain"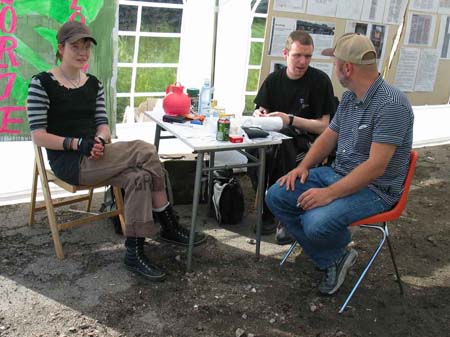 Storytellingoffice. Collecting stories from the area.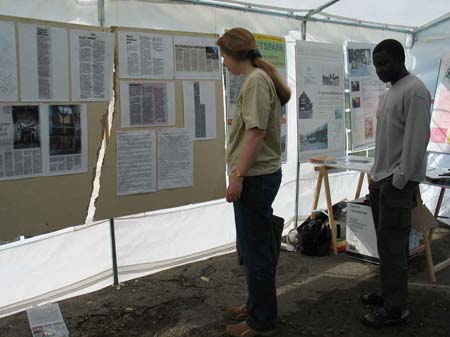 YNKB infotent