18 september 2015 kl 18 – 23
Benefit concert
Astrid Noacks Atelier presents:
Benefit concert to preserve RÅDMANDSGADE 34
Rådmandsgade 34, the site that once housed the living and working space of one
of Denmark's most significant sculpters, Astrid Noack, will be holding a benefit concert
on Friday the 11th of September to help preserve and restore buildings and yard. Now
home to both Astrid Noacks Atelier as well as a host of other musicians' studios,
Rådmandsgade 34 faces a critical point in its preservation.
Founded in 2013, the Rådmandsgade 34 foundation acquired the yard and surrounding buildings
in an attempt to preserve the buildings communal working environment, securing for years
to come a very special site where artists can connect to each other but also to the surrounding
Nørrebro residents through engaging through art. Since 2009, Astrid Noacks Atelier has programmed
art exhibitions, artist talks and hosted artist residencies, all of which have a community focus.
This set of buildings is one of the last surving examples of a communal work environment. In that sense
it is both a historical glimpse into the past, but also a chance to experience an intimate intersection of artists and musicians.
Musicians who have been active within this space will be playing to support the raising of funds desperately
needed so that we can preserve the site for future generations. Bands include post-punk, experimental,
electronic and rock and new-age projects such as Dygtig Hund, Nina Forsberg featuring "I and I", Yahowa,
Vindposen, Shanghai Whorehouse, Hatebanger, Jenny Gräf.
Contact:
Jenny Graf Sheppard on jennygrafsheppard@gmail.com or on telephone: 71678561
For more about the history of ANA and artist Astrid Noack: http://www.astrid-noack.dk/
August 2 2015 10 am – 2 pm
YNKB REPAIR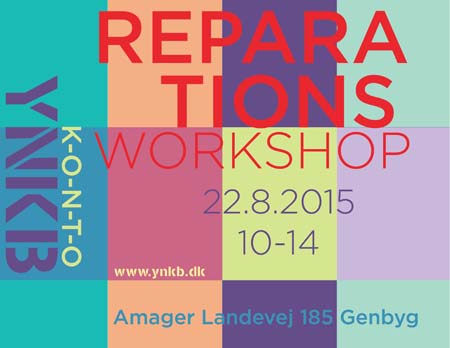 The Artist groups YNKB and  K-O-N-T-O invite you to REPARATION – REBUILD.
Saturday 22nd of August 10-14 at GENBYG Amager Landevej 185, 2770 Kastrup // www.genbyg.dk.

The REPARATION – REBUILD Workshop, is the third of four to take place in 2015.
This time however, it will not take place at YNKB, our usual Nørrebro location. Instead,
the workshop will be held at GENBYG, Denmarks biggest shop for reuse building materials,
who has donated facilities and materials for use in the workshop. This time we focus on working
with wood and people are invited to bring wooden furniture, a broken window frame, or other
smaller wooden artifacts that need a caring  hand.
REPARATION – REBUILD is an experience worth sharing, on where everybody can give
and receive new knowledge. In the workshop it is the owner doing the reparation but using shared resources.
Objects that are repaired in the workshop will be photographed with a small note of what has
been repaired and by whom and will be included in a small exhibition  in GENBYG during the following week.
REPARATION – REBUILD exhibition photos from all 4 of the 2015 workshops will included in a small publication
in which will also include reflections and discussions on reparation, waste and reuse.
The REPARATION – REBUILD Workshop at GENBYG is part of Copenhagen Art Week 2015 / copenhagenartweek.dk.

Press Contact: Elisabeth Kiss: 28560343 / Katrine Skovgaard: 22759914 / info.ynkbpresse@gmail.com
Facebook-events: www.facebook.com/events/425699507617943.
Reparation Video from Januar 2015: vimeo.com/123439626
K-O-N-T-O: www.k-o-n-t-o.dk / info@k-o-n-t-o.dk.
April 23 – 26 2015 1 pm – 5 pm
GORM SPAABAEK visits YNKB
Gorm Spaabaek exhibits two Woodcuts in monumental sizes (214×305 cm)after a two-headed viper
and a serie of monotypies with a motive of lions after stonecarving in the 12th century church of Øster Brønderslev
April 18 – 19 2015 12 am – 5 pm
YNKB Repair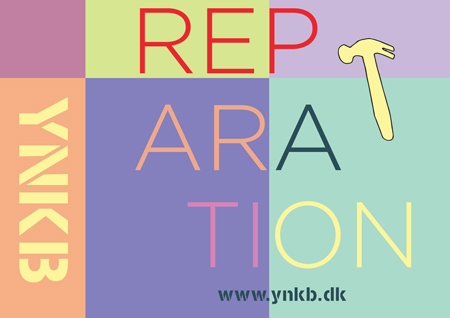 Do you have something in need of repair? A chair to be glued back together? A bicycle in need a loving hand,
clothes to be mended or a vase that needs to be glued?
Come and repair your things while having a fun day with others.YNKB is now having the sixth in the series
of the popular repair workshop. The workshop is organized in cooperation with KONTO and during year 2015
we will together hold a total of 4 Reperation-Rebuild workshops.
See: www.k-o-n-t-o.dk
January 17 2015 10 am – 5 pm
YNKB Repair
YNKB-Repair is a classical YNKBactivity, but in 2015 YNKB will make 4 performances,
winter, spring, summer, and autumn in the local area of Outer Nørrebro.
Repair is a daily human activity. YNKB wants to enlighten the ehtical and aestetical values in repair.
The workshop is followed by an exhibition January 18 – 25, 1:30 – 5 pm