November 16 2013 – January 26 2014
ZEIGEN. An Audio Tour through Copenhagen by Karin Sander
YNKB participates in the exhibition ""ZEIGEN. An Audio Tour through Copenhagen"
by Karin Sander. The exhibition brings together more than 150 artists associated with
Copenhagen. The internationally renowned German artist Karin Sander has invited
each of them to produce a sound piece, any kind of sound, description, reading, music
or whatever that would translate their work or working process into sound and make it
"visible". The works will be presented at the Upper Gallery of Nikolaj Kunsthal, Copenhagen
Contemporary Art Centre. The staging of the show follows Karin Sander's concept:
The names of the participating artists applied to the walls, visitors can experience
the sound works by selecting tracks by numbers in audio guides.
For more information, see http://www.nikolajkunsthal.dk/en/udstillinger/karin-sander
Listen tol YNKB's contribution here
September 13
People's Museum Artist residencies 2012-13
Nynne Haugaard, Nikolaj Kilsmark,
Lise Skou and Tanja Nellemann
People's Museum Artist residencies 2012-13:
Nynne Haugaard, Nikolaj Kilsmark, Lise Skou and Tanja Nellemann
about their projects as artists in recidence at People's Museum, Birzeit, Palestine.
Filmscreening by Nynne Haugaard and Nikolaj Kilsmark: Local Call, produced during theit stay in Birzeit
See: http://www.youtube.com/watch?v=gdHe1PXgilM
Palestinian food will be served by Saad Zabati from People's Museum in Birzeit
May 23 – 26 2013
Workshop in YNKB
YNKB hosts the exhibition WORKSHOP by Gorm Spaabæk from Thursday
23th May to Sunday, May 26. The exhibition is open every day in the afternoon
from 13 to 17. The artist Gorm Spaabæk says about his exhibition: The exhibition
consists of more than 40 monotypes, with the motive inspired by a carved stone
image in Grønbek Church, which is just north of the town of Silkeborg. The Romanesque
granite sculptures have interested me since my youth and in the last few years,
I have worked through a number of these motifs in the series of monotypes. I see
the Romanesque stone sculpture in the old churches reflecting a fusion of different
cultures and mindsets, outsiders and the local mindset that developed together in
a dialogue and created a unique pictorial expression. The very reason for why it is
so interesting, and very Danish.
The exhibition has been moved from my workshop in Dronninglund Storskov and
adapted to the surroundings at YNKB.
See more about Gorm Spaabæk here
March 3, March 9, and March 10, all days from 2-6 pm
Radio Workshop
3-day Radio Workshop with Mira and Laura from the visAvis group at YNKB!
During the workshop we will learn about microphones, recording technique, editing,
and about different elements and tools for telling good and strong radio stories.
The first workshop day (March 3) will be a short introduction to the radio media and
some recording advice. Then during the following week everyone will work on recording
sounds, interviews, reportage, or whatever you want to record. After a week, we will meet
again (on March 9 and 10) and use the two last days for editing and talking about how to
structure your material.
The pieces you produce will be published on the visAvis webpage: www.visavis.dk.
February 27 2013
Book reception: YNKB TEMA 18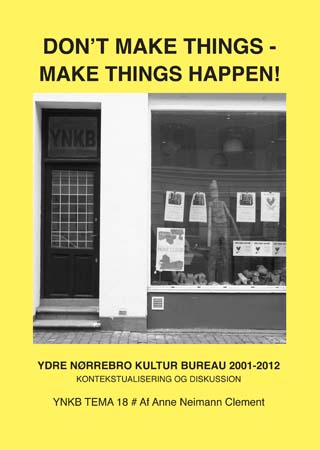 "DON'T MAKE THINGS – MAKE THINGS HAPPEN" Ydre Nørrebro Kultur Bureau 2001-2012.
Contextualization and discussion. Text by Anne Neimann Clement.Translated to Engliush by Mary Bille.
96 pages. The book will be sold for 40 kr during the reception, normal prize will be 80 kr. Soup will be served
and legendary films from YNKB archive will be shown 7 pm.