December 16 – December 18 2010
The Gift
Sunday November 21 2010 6 – 9 pm
(Standard time)
First of November, standard time.
Sunrise. 07:14 – 67,7°
15:00 – 129,7°
"you can't make a sundial in a window facing north"
The windowsill isn't level anyway, and needs repair.
The top step of the stairs is broken, and what is wearing so much on the floor in here?
We'd rather be outside in here you can only point out.
16:00 – 145,2°
I'll fix the floor while I'm at it.
Sundown 16:34 – 153,5°
(a finger points to the moon)
What an interesting finger, let me suck it
or
It's not an interesting finger, take it away
An Exhibition by Rasmus P. Open November 22 to November 30. Contact info@ynkb.dk
October 1 2010
City walk in Albertslund 1968 & 2010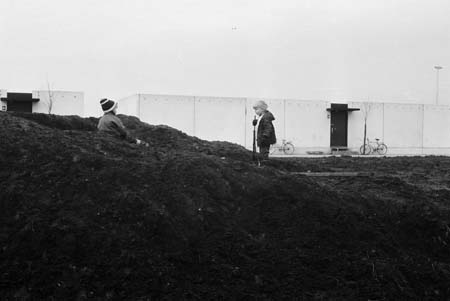 Gåafstand together with YNKB are proud to present a city walk
in Albertslund 42 years later. In 1968 artists around the Experimental
School made dérivés in the newly built areas of Albertslund. Together with
some of the artists who took part in the drivés in 1968 we will walk the tour
again and discuss what happens in time with the city and with the dreams of
the life in the suburbs: are they still are actractive?
Time: Friday. October 1, 3.30 pm. (duration 2 hours).
Meetingpoint: Albertslund Station.
The tour is arranged together with Akademisk Arkitektforening on the Day of Architecture
See also: http://gaaafstand.blogspot.com
September 18 – 19 2010
Saturday and Sunday the 18th and 19th of September 12 am – 8 pm
YNKB on alt_cph:
Soup in September
50 meters from the the Factory for Art and Design there is still an old market garden.
There you have to watch out for needles. The municipality wants people to stay out:
they are cleaning the area for drug addicts and homeless people. It's outskirt Denmark
in the middle of Copenhagen and a location for an alternative art forum in the middle of
September. On the lawn behind the Factory for Art and Design YNKB created in June 2010
a city garden with growing potatoes and onions from Jutland, wild mint and herbs from the
market garden which are no more there and ecological fertilizer from horses and hens in
Christiania and expensive non toxicated soil from who knows where. At alt_cph opening
YNKB will cook a soup from the vegetable grown in the city garden. As interesting and
good flavored as it can be. But healthy for sure.
See pictures
September 17, 2010
Booklaunch: YNKB Tema17: City Weeds.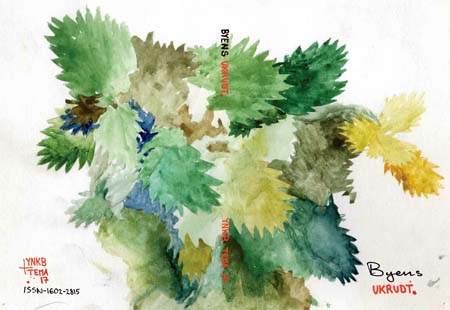 YNKB is proud to announce that we will publish a new edition of YNKB tema
publications on Friday the 17th of September at our stand at alt_cph on Friday
the 17th at 5 pm.
YNKB Tema 17 Is a nice little pocket book in A6. The book documents workshops
arranged by YNKB: weeds and wild plants of the city at alt_cph in 2008 and at
Outer Nørrebro in 2009 in Autumn and Spring. We collected the weed in the city space
and together prepared meals, tea, coffee, marmalade and fruit juice from wild herbs,
fruit and berries we found there.
The book contains an introduction by YNKB. The Process is documented through a rich
number of drawings, watercolor designs and photos and with recipes of the dishes created
during the process by YNKB. Biologist Nils Grøngaard, who has been conducting the collection
of wild plants, has written poems and a essay for the City Weed publication.
The word weed, in german Unkraut = noweed, in old Danish nograss.
They are plants which are not desired by people who owns or uses land – or water territories,
where they grow.
In YNKB we wish that this little book will give new inspiration to how we with joy can collect
and use the weed and wild plants of the city. YNKB Tema17: City Weed is 65 pages in A6
with texts in Danish and English.
Price 40 kr. Can be bought at alt_cph 17th, 18th and 19th of September 2010 and through the YNKB website
June 12 2010
YNKB visits Oda projesi in Istanbul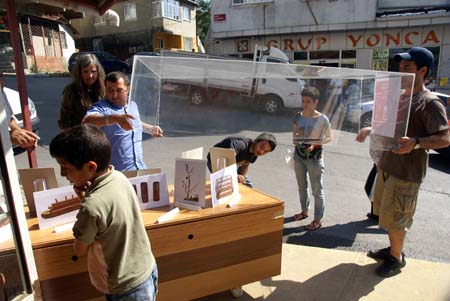 YNKB was invited by The Istanbul based artist collaboratiom to take part in
their project in Gülsuyu. Oda Projesi means "Room Project" and employs
thinking of the different usages of the "room": finding a way to combine the
daily life and art practices. The group wants to bridge relations between artists,
non-artists, artist-run-groups, institutions and the communities in the neighborhood.
Gülsuyu is an old neighboruhood from 1950's where it was one of the first gecekondu
(slum- favella- nightly madehouse) areas. In the center of Gülsuyu Oda Projesi
established a shop. Here YNKB presented People's Museum.
See more images
January 24 2010
Dark Matter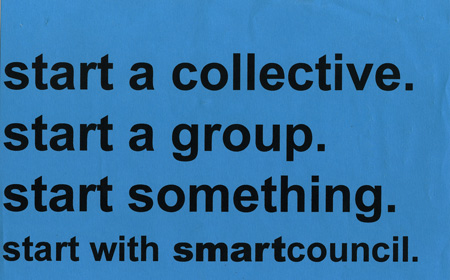 Sholette's research into politically-engaged artists' collectives raises the following
proposition: cultural economies are secretly dependent upon a sphere of hidden social
production involving cooperative networks, systems of gift exchange, unwaged labor,
and collective forms of practice that act as a type of missing mass or dark matter, which
the art world typically refuses to acknowledge. Thanks in large part to the spread of digital
networks, however, this dark matter is getting brighter. By looking at more than 30 years of
contemporary artists' collectives, Sholette's research attempts to map this materializing
missing mass politically, as part of a broader history from below.