13 december 2007
ART AFTER WORK 2: Politics of silence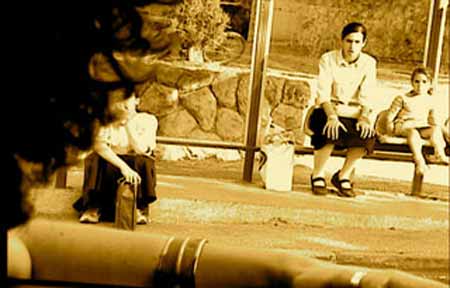 still of the film:" A World Apart Within 15 Minutes" by Enas I. Muthaffar
Larissa Sansour, Palestinian video artist, presents: "Politics of Silence"
A program of 8 videos from Palestine:
Sameh Zoabi: " Be Quiet"
Ayreen Anastas: "Eden Resonating"
Ahmad Habash: "Flee"
Annemarie Jacir: "Sound of the street"
Rowan Al Faqih: "Summer of 85"
Reem Bader : "Life goes on"
Enas Muthaffar: A World Apart Within 15 Minutes"
The program will be projected on YNKB-window as Nonstop International Video Window projections in december 2007, january and february 2008
10 december 2007
ART AFTER WORK 1: A story of spring
monday december 10, 5 pm
YNKB presents: The Japanese artist Toshiaki Tomita
5 pm.: Japanese food
7.pm: "A Story of Spring": Book reading
Toshiaki Tomita, Japanese artist, currently traveling Europe and Australia for his research on community art,will read his book "Spring in Desert" about his native
land published in 2001.
Memory is a body fluid from the inner spring to humanity and human character as water as substance is the home of all the lives. Was it the exisitence of the spring that is the memory of common source of the river to make human beings to be human beings, through far and long layer of time that Tomita searched for by recalling of the memory of water in his home land? Akihiko Takami (art critic)
October 13 2007 2pm
ynkb 13 oktober kl. 15
Presentation by Josh MacPhee:
printing against the grain
activist printmaking from 1960s to now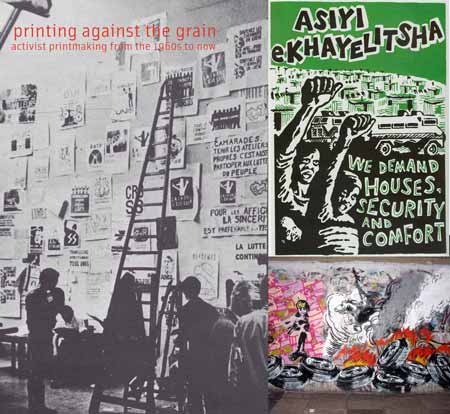 From French students and workers in 1968 to Chicano community workshops in the late 60's to Italian and German Autonomists in the 70's to Act Up in the 80's, printmaking has taken a sweeping democratic turn in the last 40 years. This presentation shows over a hundred images and follows the political, social and aesthetic development of this activist printmaking.
Josh MacPhee is an artist, curator and activist currently living in Troy, NY, USA. His work often revolves around themes of radical politics, privatization and public space. His second book: Realizing the Impossible: Art Against Authority (AK Press, co-edited with Erik Reuland) was just published. He also organizes the Celebrate People's History Poster Series and is part of the political art collective Justseeds.org.
21-22-23 eptember 2007
YNKB on copenhagen alternative art fair

YNKB participated in Copenhagen Alternative Art fair with a repair workshop.
Through flyers and mails people was asked to bring things for reparation. A chair that needed gluing? A bike which needs a careful hand? or other furnitures, baby carriages etc. which easily could be repaired?
On YNKB Art Fair Reparation 45 reparations was made.
See more
See alle the reparations
September 13, 2007 , 5 pm
Young architects shows their projects
for the final examination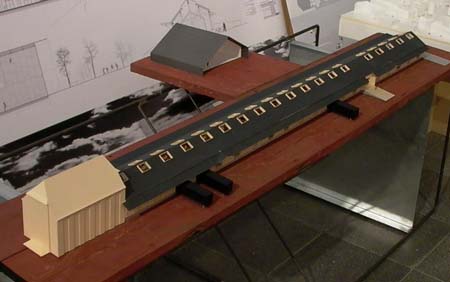 Architect Jakob Findeisen: An alternative Culture house in the Freighthalls on Nørrebro
Achitect Johanne Louise Dufour Andersen: A Mosque -a culture house on Outer Noerrebro
Debate: why an art and culture house and
a Mosque on Outer Noerrebro?
Debate with
Peter Christensen from Mimersgade Områdeløft
Imam Abdul Wahid Pedersen
Artist Nis Rømer.
See more
August 9 – 12, 2007
YNKB on Days of ART AND LOVE, Odense

YNKB participated in the festival "Days 0f Art and Love" august 9 – 12 ini Odense This year the theme was the decentalized city. YNKB presented a Art and Love Repair Workshop on Blangstedgaard, Hus 88.
Via posters and flyers in the area the residents were invited to come and repair their broken things. On Art and Love Repair Workshopp 14 objects was repaired.
See more
See all repaired objects here
June 8 – november 11, 2007
YNKB on the tentshow
The artists collective Parfyme Deluxe lighted the camp fire and open the field kitchen – and invited a lot of artists and musicians to bring their tents and camp there. More than 40 artists will occupied Nikolaj's Upper Gallery. and in this village of tents there will be concerts, performances, art, video, workshops, discussions as well as various events during the exhibition period.
See more
See YNKB/Mixdialogue tent and Cinema .click heer
14. april – 6. maj 2007
Surface Tension_Copenhagen
Surface Tension_Copenhagen brings together practitioners from varied disciplines and geographies to undertake projects that seek to engage the city of Copenhagen. Focusing on aspects of the built environment, the exhibition aims to underscore the active systems, structures, and local productions at work in and around the city.
Organised byf Brandon LaBelle and Nis Rømer
See more : www.publik.dk/st_copenhagen.html
14 marts- 13 maj 2007
tv-tv på Le plateau – frac, paris
YNKB participated as part of tv-tv in Société Anonyme on Le Plateau – FRAC, Paris
Different artists, art collectives and organisms based in Antwerpen, Berlin, Copnhagen, Mexico City, Moscow, Prague, Saint Petersburg and Zagreb will be temporarily relocating to the plateau to initiate a series of new projects, in ciollaborations with artists, researhers and intellectuals based in Paris.
See more
16 – 28 marts2007
Mixdialogue YNKB in Bethlehem
As a part of the project Mixdialogue YNKB participted togehter with the art group Parfyme and curator Iben Bentzen in a workshop: "Cinema" on the school for documentar film on Dar al-Kalima college, Bethlehem.
See Cinema
About the situationen in Bethlehem,:see more
See also Open Bethlehem
Januar 26, 2007
demolition of the Freightmandshalls the culture house, that disappeared!
The residents on Noerrebro is used to houses is demolished against their wishes. Now it is the Freighthalls..
See and read more