December 18, 2006
POSTERs of radiant optimism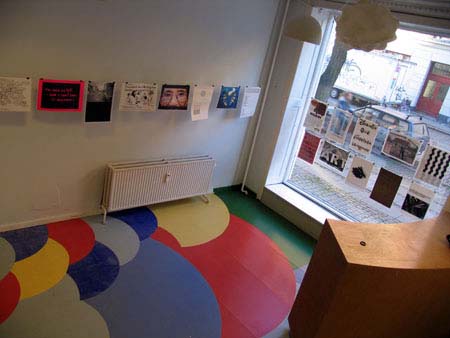 YNKB (København) og Messhall (Chicago) præsentererPosters of radiant optimism.
We want to organize this poster series to encourage a visibility and cohesion for today's
optimistic and visionary ideas from artists and activists, for dealing with these problems.
The exhibition can be seen at YNKB
Click here to see installationviews
Click here to see all the posters.
November 26, 2006
"The Center for Tactical Magic"
Revolutionary Breakthroughs in Extra-Sensory Perception
Engaged in studies as a magician's apprentice, a ninja's disciple, and a private
investigator's observant shadow, Aaron Gach (co-founder of the Center for
Tactical Magic) will offer a unique look at art, magic, and activism. The presentation
traces a brief history of magic along with its contemporary applications in politics,
advertising, military, religion, and other cultural arenas. Additionally, several projects
from the Center for Tactical Magic, including the Tactical Ice Cream Unit,
the Cricket-Activated Defense System, and experiments in radical kite-flying,
will serve as examples of creative engagement within society.
See Center for Tactical Magic
October 28, 2006
Public action movies
Generatordriven videoscreening in the freighthalls
Click here to see program
October 4, 2006
Book reception: tema 12 og minimumseum #1
Byvandringer 1968
314 pictures from Ydre Nørrebro, Østerbro, Høje Gladsaxe, Albertslund og Rødovre
by artist Finn Thybo Andersen from citywalks in Copenhagen in 1968 and a essay
by Preben Maegaard, director for Nordic Folkecenter for renewable Energy:
"Cityculture at the end of the road" (only in danish)
At the bookreception Preben Maegaard and Finn Thybo Andersen presented
Byvandringer 1968. Rasmus Brink Pedersen presented his project and booklet
MINIMUMSEUM #1 and artist Nis Rømer presented: Gåafstand, a walking club.
Click here for to see pictures from Byvandringer 1968
See http://www.gaaafstand.dk
See YNKB tema editions
september 5, 2006
Who says we went away???
Accohannoch Indian Tribe has lived in Maryland, USA for 30.000 years.
Now they have bought back 40 acres of their native land.
YNKB visited Accahannoch Chief Laughing Otter Hal earlier this year
and the Chief gave us a spear. With this spear, signed by the chief,
YNKB inaugurated the old railroad area at Nørrebro Station in Copenhagen.
co-production by Rasmus Brink Pedersen, Thomas Bo Østergaard,
Christel Lundberg, Stoffer, Kirsten Dufour, Finn Thybo
YNKB 2006
Click here to see pictures from Accohannoch Indian Tribe the 40 acres native land
September 2 – 26 , 2006
Hot Summer of Urban Farming
Over the summer, 8 artists from Denmark and abroad have made temporary
works, gardens and plantations in outer Nørrebro. The projects serve as starting
points for exploring informal and temporary uses of spaces that are undetermined.
Hot summer wants to expand on the social and cultural issues around gardening
and farming in the city and suggest a closer connection between agriculture and the city.
Hot Summer of Urban Farming is curated and organized by visual artist Nis Rømer
in the context of www.publik.dk – a newly established organization for art in public spaces and media
See http://www.publik.dk/hotsummer
August 26, 2006
Activism in Baltimore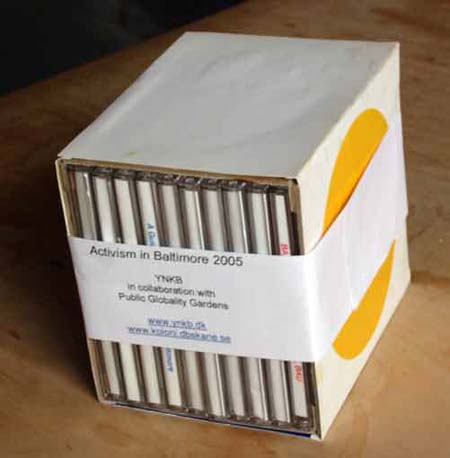 THE ARCHIVE "ACTIVISM IN BALTIMORE 2005" of activist interviews by YNKB (DK) in
collaboration with Public Globality Gardens (S)" was screened at Red Emmas Bookstore
Saturday Aug 26 and donated to Baltimore Indymedia. It will from now on be possible to
study the videos on activism in Baltimore at PAC (Progressive Action Center, 1443 Gorsuch Ave.,
Baltimore MD).
See more
June 17, 2006
Streetparty for more green areas on Nørrebro
The annual streetparty for an Activitypark and an Art – and Culturecenter in the Freighthalls.
See pictures and program here