9 maj 2014 kl. 19
walking the routes of the displaced. Here
and there.
A collective performanc-
action

Falling down the wall
Knealed reading

On your knee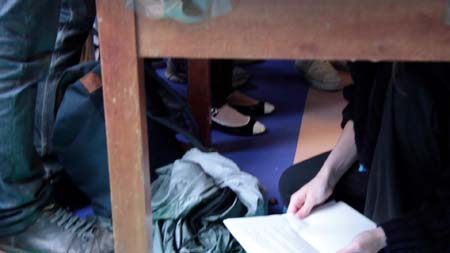 Under the table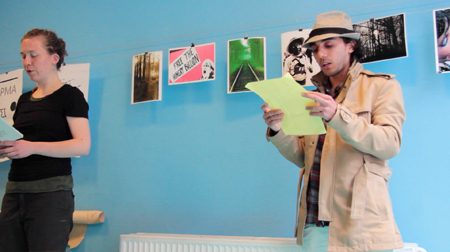 Reading together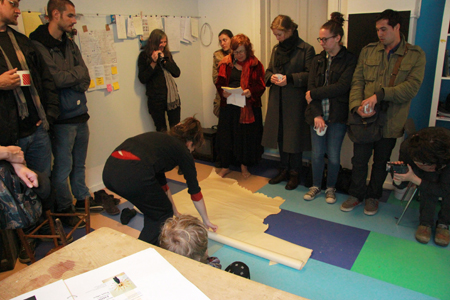 Xartis

Xu throw paint

Hang up the map

Looking at our hands what our hands do
Walking the Routes of the Displaced. Here and there. Athens – Copenhagen. (April 31 – May 14 2014)
Continuing "with nails and teeth for our rights", during the month of May we collaborated with the YNKB collective in Copenhagen to transfer stories from Athens, as well as to realize a workshop in Copenhagen on stories of journeys of immigration (primarily those without papers) from Athens to Copenhagen. In this workshop we centered around borders confronted on one's route, as well as on borders experienced within the city of Copenhagen. This research-action attempted to contribute to the understanding of the human condition, the correlation of different moments in time and space in the current mapping of Europe.
Research in Copenhagen. Experiences we had, stories we heard
One of the places we spent time at in Copenhagen was a space called "Trampolinehuset" ("The Trampoline House"). The space was initiated by a group of artists in 2010 as a continuation of an ongoing collective dialogue on the conditions and problems of the asylum system in Denmark, in which people from many fields participated, activists, artists, architects, journalists, social workers, anthropologists and university students from across the country. Their question: how they could improve the living conditions of people applying for asylum in Denmark.
When the Trampoline House began the idea was to make a "reverse state of exception", a meeting place for people from different places and cultures in the city. In this way, this culture house could become a place of sharing and exchange for people from different places, a place where people could learn from each other and share experiences. The name "Trampoline house" was inspired by the idea of a trampoline that can be used to change one's movement/direction, but only if one is active on it.
At the Trampoline House we spoke with many people who had been through Athens on their journey to Copenhagen. After being in Athens many continued onto Italy on trains, trucks, often hidden and despite their wishes (some had wanted to cross the channel to reach London, but when unable went to Germany and then to Copenhagen). Some had reached Copenhagen by plane, paying a large amount for this journey. The journey to Copenhagen, as it was described to us, increasingly has more obstacles at every stop and a gradual increase of vulnerability.
While in Copenhagen we also worked together with some participants of the editorial team of the magazine VisAvis: voices on asylum and migration. We visited Avnstrup asylum camp, one of the many "camps" as they are called, where asylum-seekers are required to reside at while their asylum application is being processed. In order to reach the camp we changed 2 trains and 2 buses. The route to arrive at Avnstrup door-to-door was about 1.5 hour.
During the workshop "with nails and teeth" in Athens we had spoken about the route to the West, this long journey, in which Greece is only the entrance to. In this journey Northern Europe is the desired destination of many, as it promises "better" conditions, and is the location where many hope to reach the goal of their migration, ex. sending money back home. However, what we were told in ample conversations and as we noticed from our own observation, there are many invisible borders that frequently force people to live in situations of exclusion, confinement, often with strong feelings of loneliness, disappointment and lack of hope. Some people missed their friends and people they had met in Greece.
Another motif we saw in conversations was that those living in the asylum camps did not feel safe, both in and outside of the camps, especially women and those who were LGTBQI. Moreover we noticed that within the overall minority group of "immigrants" that people fall into when leaving their home countries, there is also a formation of sub-minorities. For example, to be an immigrant in this case in Denmark is one kind of social stigma, but to be an immigrant and gay, means taking on a double-stigma, or being an immigrant, a woman and lesbian, triple stigma, and so-on a so-forth.
In the magazine VisAvis there were various articles on the issue of migration through the lens of gender and sexuality. Characteristic was the story of a woman from Syria that we met at the weekly Saturday Women's Meetings at the Trampoline House, who spoke to us about the absence of spaces in asylum camps for women to meet and discuss more intimately the issues, problems and feelings they were experiencing in a safe space. Additionally, a greek translator living in Copenhagen told us a story of a woman who had expressed that nothing felt worse to her than being forced to return to her country, where she eventually was deported to however, after several interviews, despite telling the authorities that she was in danger there because of her sexual orientation. Frequently in the process of interviews in the asylum application process, authorities question with suspicion people's stories relating to sexual orientation, saying they could not prove they were LGBTQI.
Going back to the conditions of the camps. Those who seek asylum living in camps are far away from the city and local daily life. Frequently when people arrive in the camp they do not know how to reach Copenhagen, but their movement is further restricted (even though they are free to go in and out of the camps) by the fact that transportation is very high and as they are not allowed to work for money while their application is being process, they do not have money to pay for the tickets into the city. This situation of being isolated from society creates feelings of seclusion. In this way they indirectly prohibited from participating in society and feeling they can gradually begin living a "normal life". It is often a difficult period of uncertainty and waiting.
The border of language is a strong one that creates a barrier of communication when asylum-seekers, refugees and immigrants first arrive in Denmark. The asylum application process depends, while for some can take less time (ex. Syrians can now receive asylum in even 2 months, due to recent changes in Syria), but sometimes can take upto even 5-10 years. There are several rounds of interview procedures and audit committees. Frequently there are cases of deportation and implementation of the Dublin II Regulation, although we were informed that since 2012 people are no longer sent back to Greece.
The possibility of residing "without papers" ("sans papiers") in Copenhagen – although it does happen – is very difficult, as life without papers means living in a parallel "outside of the law, invisible city" which has many risks within Danish capitalism.
Additionally, to the extent it was possible in our short time in Copenhagen we explored the issue of recent greek migration, on the occasion of meeting a young woman from Greece who was selling strawberries at the May 1st mass demonstration. We also spoke with the group CrisisMirror, initiated by greeks living in Copenhagen, in which people from different places write and organize actions relating to issues of the crisis. One of the participants of CrisisMirror had written his master's dissertation entitled "Breaking Barriers through Navigating Terrains of Illegality", which presents research findings on ways asylum-seekers find means of agency and resistance in a system of barriers in Copenhagen.
Through our research in Copenhagen, Europe's role and common stance towards countries and people in "emergency situations" and precarity – who come from wars, poverty, difficult journeys, making them increasingly vulnerable – became increasingly clear to us. Despite the "dream" northern Europe constitutes, many people arrive there and realize that the situation is not the one they expected. Some may receive asylum status and try to start making a life there. Some people we had met at Trampoline House had indeed received asylum status. But what about the others? One person, after receiving a "negative" for the fourth time in his application and being told he would be deported, committed suicide.
Bauman in his book "Wasted Lives" writes: "refugees, asylum-seekers, the "sans papiers" are the human waste of globalization."
*
Action-performance at YNKB
The action-performance we did at YNKB (May 9 2014) had a collective character, as Eva, Stoffer, Eleni, Christina and Billy participated together, as did Rasmus, Liv, Omar and Yannis with their stories. The texts we read were in Greek, Danish, Arabic and English, were stories from unrealized journeys to and in Greece (such as the experience of the shipwreck off the shore of Lefkada, as told to us by 3 survivors last December), Omar's story in prison in Athens, the story of the journey trying to go from Greece to Italy and Copenhagen, stories from the camps in Copenhagen, together with our reflections-excerpts from our journal in Copenhagen which we read in "Broken Danish", as well as Giannis' text on the crisis and its repercussions. In the space of YNKB were also several photographs of life in Copenhagen by Mahmoud Billy Haydar, who is from Lebanon, as well as a hand-made map of the route we took to Avnstrup camp.
The movements we embodied in the performance explored the confinement in space, exclusion and entrapment of immigrants in their movements in and on the way to northern Europe and Copenhagen. In response to this situation of entrapment we looked at how the body and its physical presence, how gestures, the voice and movements in space, can show our opposition in this situation. Where is "the way out" in this entrapment?
If something began possible in this action in Copenhagen it was to bring people together form different places and cultures. It was important to us to have different stories heard together in different languages, as well as making visible that the global map today is being painted with blood, with Europe's responsibility by turning itself into a fortress. At YNKB we wondered if performance can bring people together, create familiarity and a different humane situation in this xenophobic moment.
Part of our action was also the collective food we made, tastes from Greece and Denmark we had prepared, which became the trigger for a common discussion together on what is happening now in Europe. As our friends from Denmark told us, this was quite unusual.
Our actions, which we wish to continue, are for us small gestures, like "the survival of the lightning bug in the darkness", as philosopher George Didi-Huberman writes.
We would like to thank very much Eva La Cour, Stoffer Christensen, Mahmoud "Billy" Haydar, Giannis Papathanasiou, Rasmus Pedersen, Liv Nimand Duva, Tine Tvergard, Kirsten Dufour and Finn Thybo Andersen who participated in the action-performance, everyone from YNKB for inviting us and making this work possible, and the groups and participants from CrisisMirror, Trampoline House and VisAvis for sharing their stories, thoughts and work with us. We hope to continue this collaboration and joined action.
Photographs/Video documentation: Mahmoud Billy Haydar, Kirsten Dufour Andersen, Bonnie Fortune, Eleni Tzirtzilaki, Christina Thomopoulos