'What's next?
Neighborhoods and Artistic Practices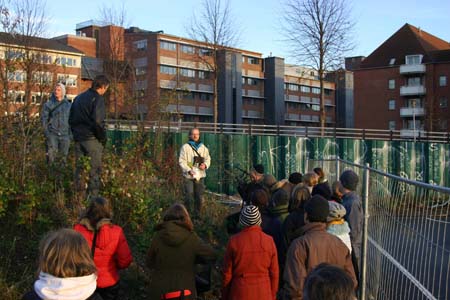 "—which provide an insight not only into the microstructures of certain districts and the everyday realities and struggles of the inhabitants, but which also demonstrate artistic ways of reclaiming urban space."

Book reception: - Journal for Northeast Issues 3 and 4, ed. projektgruppe (Hamburg) - Kunstfragt, ed. YNKB (København) - Belltown Paradise/Making Their Own Plans, ed. Brett Bloom og Ava Bromberg (Chicago)

Conference: presentations, videos, talks, debate - Brett Bloom (Chicago) - T. J. Demos, Headquarters (Baltimore) - Niels Grøngaard, Agenda 21 (Copenhagen): "Aktivitetsparken Ydre Nørrebro" (urban biological walk) - Minna Henriksson (Helsinki/Malmø): "Oulu" - NahTe/János Vetö (Copenhagen /Malmø): "Dynosaurus Saga" (video from Vesterbro) - projektgruppe (Hamburg) - Nis Rømer (Copenhagen ): "Experimental Station, Chicago" (video) - Pia Rønnicke (Copenhagen ): "Urban Fiction" (video) - section8 (Los Angeles): "Asylum" (documentar film about Kingsley Hall, by Peter Robinson) presentation/discussion - Emmerik Warburg, Christiania Researcher in Residence (CRIR): "Christiania as an example on creative city planning on an internationall level " (video) - YNKB og Public Globality Garden (Copenhagen/Malmø):"Dennis Livingstone, artist and activist from Baltimore"

On Saturday, November 19, at 12 AM. Direct art action in Ydre Nørrebro (Freight Hall and Activity Park area) You are invited to participate with your own project; together we can also decide on collective actions. We will start from YNKB, Baldersgade 70, st tv. If you have a proposal, please email it beforehand.
"What's next?" is organized by projektgruppe, Hamburg, and YNKB, Copenhagen.


Biolog Niels Grøngaard, from Agenda 21guides an biological citywalk on the DSB-area.