October 15, 6 – 9 pm
Justseeds RESOURCED portfolio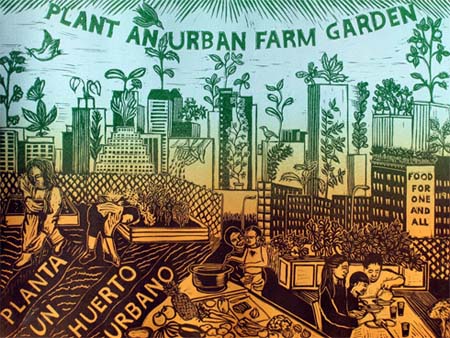 Justseeds Artists' Cooperative is a decentralized network of 26 artists committed to making print and design work that reflects a radical social and political stance. With members working from the U.S., Canada, and Mexico, Justseeds operates both as a unified collaboration of similarly-minded printmakers and as a loose collection of creative individuals with unique viewpoints and working methods.
Justseeds members, Shaun Slifer and Mary Tremonte, will be in Copenhagen to present the Justseeds's RESOURCED portfolio. RESOURCED was created and organized in 2010 to raise awareness on the global climate crisis. Images and graphics in this portfolio focus on the excesses of current systems of energy production, decline of natural resources, and, of course, climate change. The RESOURCED portfolio is a teaching tool and a tool for starting dialogue around the current environmental movement.
RESOURCED will be open at YNKB 15 October kl. 18:00-21:00.
Shaun and Mary will present a talk about Justseeds starting at 19:00.
September 30, 2011, from 18-22
Voices from Ramallah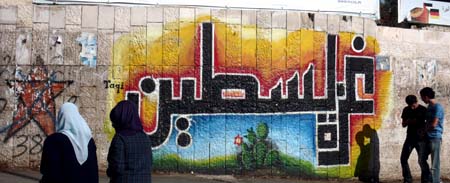 "Voices from Ramallah" is a photobook with an introduction and translation of the arabic writings. It is made by Andreas Willemoes Thomsen and Sara Willemoes Thomsen.
The graffiti in the book "Voices from Ramallah" are primarily from Ramallah, the West Bank, Palestine. We have decided to focus on the writings and messages of the Palestinians themselves. By doing this, we exclude the graffiti made on the wall, built by the Israelis, since this graffiti is primarily made by visitors from the western world, who go to Palestine to express their sympathy with the cause of the Palestinians. We have decided to give voice to the local expression in Ramallah, whether it has been done to draw attention to their own existence or to a specific cause.
September October 2011
YNKB Window: Kultivator

In September and beginning of October will Posters from the series Post Revolutionary Exercises 1-10 by the Swedish art group Kultivator be on display in YNKB Window. KULTIVATOR is an experimental cooperation of organic farming and visual art practice, situated in rural village Dyestad, on the island Öland on the southeast coast of Sweden.
See more: http://kultivator.org/
September 21, 2011 kl 17:30
The common citygarden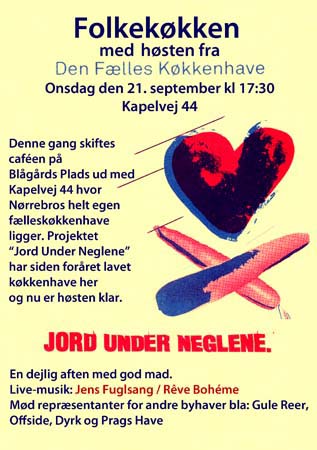 Støberiets Folkekøkken will on wednesday september 211 september be on
Kapelvej 44 where The Common Citygarden of Nørrebro is situated.
The Project "Jord Under Neglene" (the ground under the nails) in which YNKB is participating, have since the spring made a citygarden here and now we are ready to harvest.
Live-music: Jens Fuglsang / Rêve Bohéme.
Meet representatives from other citygardens: Gule Reer, Offside, Dyrk and Prags Have.
See www.faelles-haven.dk or contact us on folkehave@gmail.com for further information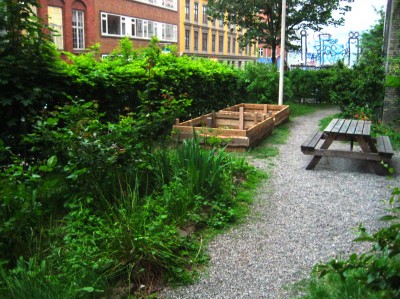 May 22, 2011, at 13.00-18.00
small scale trade
a one-day exhibition and discussion about small-scale trade. A particular focus is on indigenous and cross-border trade in the Arctic explored in the artistic initiatives of Mobile Kultur Byrå – MBK (Kirsten Dufour, Copenhagen, Hilde Methi, Kirkenes, Ulrike Solbrig, Berlin) and Luja (Yvette Brackman, Copenhagen, Hilde Methi).
See more
May 7 - jJune 29, 2011

Opening Saturday June 7, 12-4 pm
RADICAL ART PRACTISES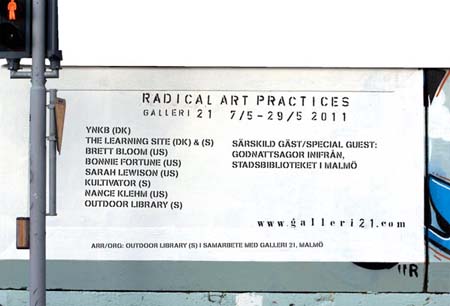 RADICAL ART PRACTISES is a project about artists working with art practises at prisons, schools, public spaces and war zones. Radical Art Practises wants to show unusual practises used in contemporary art context, and artists directly acting in processes in societies and collaboration with ethical purposes. Artists within this field works crossover, crossing traditional borders of collaborations and professions. Radical Art Practises has a purpose to connect art practises to The Rio-convention and Agenda 21, the goals to relate artists work with collective action for a sustainable society on social/cultural, environmental and economical level.
May 3 - 28, 2011
Kunstbevaegelser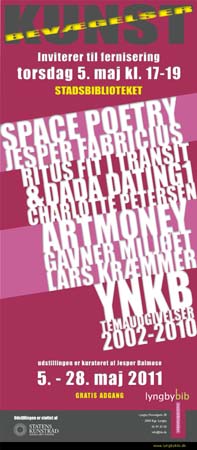 YNKB participates in the exhibition Kunstbevægelser
Opening Thursday May 5, 5-7pm
Lyngby Bibliotek, Lyngby Hovedgade 28, 2800 Kgs. Lyngby
Saturday May 21, 11 am YNKB arranges a weedworkshop in Lyngby guided by biologist Nils Grøngaard
April 10 - 3 May 3, 2011
Science Fiction Laboratorium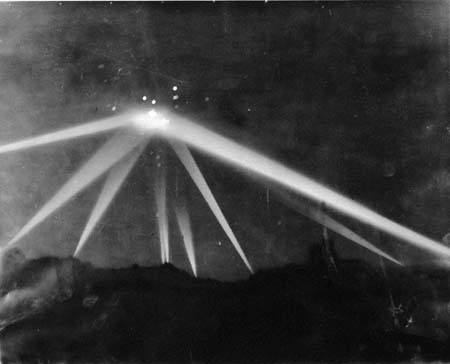 Between the 10.04.11 and the 03.05.11 YNKB transforms into a Science fiction Laboratory. The Laboratory is a time span, a space, an interest.
3,5 weeks in a room in Nørrebro with a research on Science Fiction as a genre, An opportunity, an utopian weapon in the Queer Revolution? A crucible and a catalyst for progressive visual art? As a powerchanging language field? Or as a way to question everything around us, beneath us, above us and inside ourselves? An exceeding movement that will lead us … where?
I am not an expert. And I am not I. I hereby dissolve "I" and will with this text invite everyone who wants to join a "we" to participate in this experiment. To the extent and with the amount of time that we ourselves find convenient.
Every tuesday and thursday the Laboratory is open between 12pm to 12 am. At 8 pm There are film screenings.
More information at http://sciencefictionlaboratoriet.wordpress.com/.
If you are interested in contributing with your knowledge or participating in the submersion process please contact me on tinetvegaard@gmail.com or simply just show up at YNKB, Baldersgade 70, 2200 Kbh N.
March 26, 2011, 6 - 9 pm
print cloud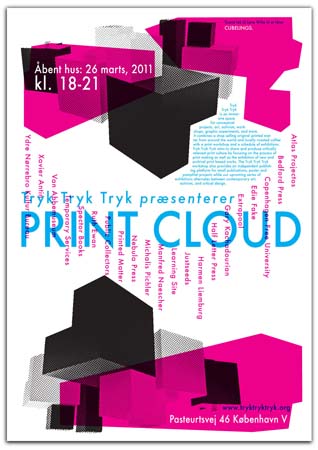 Print Cloud is an exhibition welcoming you to Tryk Tryk Tryk. It will feature books, posters, prints, ephemera and more by the following artists, publishing houses, book stores, and groups: Atlas Projectos, Bedford Press, Copenhagen Free University, Edie Fake, Extrapool, Gary Kachadourian, Half Letter Press, Harmen Liemburg, Justseeds, Learning Site, Manfred Naescher, Michalis Pichler, Nebula Press, Printed Matter, Public Collectors, Ruth Ewan, Spector Books, Temporary Services Van Abbemuseum, Xavier Antin, Ydre Nørrebro Kultur Bureau
Tryk Tryk Tryk is an immersive space for conceptual projects, art, activism, workshops, graphic experiments, and more. It combines a shop selling original printed matter from around the world and locally roasted coffee with a print workshop and a schedule of exhibitions.
Pasteursvej 46, København V
See and read more about Tryk Tryk Tryk
February the 6th - Mars the 5th 2011
woodthings

In February YNKB will be an open woodworksho.
We are inspired by N. C. Rom (1839-1919) founder of the Danish Association of Domestic Crafts in 1866. First edition of "Book of Handwork for the youth" was pulished in 1875. During the next 60 years it was republished in countles editions. "Book of Handwork" will be in YNKB and serve as inspiration.
YNKB woodworkshop will be open:
February 8, 10, 14, 15, 16, 17, 18, 21, 22 from 2 - 7 pm.
Everybody is welcome to participate!
As Special guest we are very proud to introduce Ole Hartvig in YNKB February 15, 16, 17 februar. Ole Hartvis is a specialist and will instruct in woodcarving.
Filmprogram:
February16, 7:30 pm: Alone in the Wilderness
February17, 7:30 pm: Gubben i Stugan
February21, 7:30 pm: Coconut revolution
Mars 3, 7:30: Agnes Varda: The gleaners and I
For all screenings soup will be served 7 pm.
In the end of the woodworkshop there will be an exhibition..
Opening Mars 3, 5 pm. Open Mars 4-5, 2 - 5 pm.
See images
Frida,yFebruary4, 5 pm
YNKB on Generous Gestures

Den frie centre of contemporary art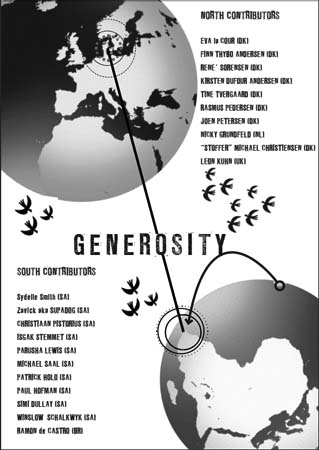 For the exhibition Generous Gestures YNKB and Abdul Dube has produced a Zine with contributions from Southafrica, Denmark and Brasil.
Exhibition opening Friday 4 February 5pm. Open February 5th-13th 2011
Downloade the GGestzine
Friday the 27th of January2011, 5pm
mothers and daughters,

a relationship of three
Paule Zajdermann's documentary film is inspired by the bestseller Mère-Fille (mother-daughter) by Caroline Eliacheff and Nathalie Heinich, about the relationships between three mothers and daughters. It follows in an simple way the different stages of life. Using excerpts from various movies, family films, and interviews with writers, the film describes how this story from birth to death makes it possible to show how relationships between mother and daughter change in the course of life, and how they can become more gentle.
The film will be in french, translation to danish by Lone Bjelke
Thursday the 20th and friday the 21th of January 2011, 5 - 9 pm.
"I met Faris in front of Burger King,

Khaled I met taking off his skies."
Thursday the 20th and friday the 21th of January is a video/installation by Eva la Cour shown at YNKB, based on her encounter with Tromsø in 2008.The installation is based on Faris and Khaled, respectively from Iraq and Kurdistan but now both living in the North of Norway. Their stories as well as opinions and knowledge about the area, has inspired the construction of two monologues that are juxtaposed with a row of videoclip. Ps: be aware of that the piece is shown only in the night from 5pm to 21pm.
Friday the 14th of January
Mountains, Mothers & Emotions
An Artist Talk + Soup
Bonnie Fortune will discuss some recent art and curatorial projects. Fortune is an artist, writer and educator living in Copenhagen by way of Chicago, IL. Her recent work looks at relationships to place, emotion and labor, and the radical history and evolution of the United States based feminist health movements.
More information: www.bonniefortune.info


Friday 7th, January 2011 at 4-8 pm
Stories about "The New Society ", 1968-70....

An exhibition by Henrik Busk

At the opening Friday 7th, January 2011 at 4-8 pm we serve micro-macro food and chai
The exhibition is open Saturday, January 8 and Sunday, January 9 from 12-4pm.
As a consequence of the student movement and the collapse of the Student Society, 500 students started the "New Society" in 1968.
In 1970, the activities of the "New Society" escalated into a big summer festival, not only for the 3 days that were normal at that time, but for 10 weeks!
The plan was to experiment with direct democracy in a newly established mini-society.
Henrik Busk has interviewed the most prominent people behind the "New Society" and created a number of video segments with stories about the times, the ideas and the experiences...
In the meetings with old activists, the project took another direction and the talks involved other issues than just stories from that time.
People visiting the exhibition will find themselves in the middle of the work of writing a chapter in the History of Danish Activism.
For more information contact Henrik Busk, mobile +45 21 31 66 44 or see:
http://www.henrikbusk.dk/:
See pictures